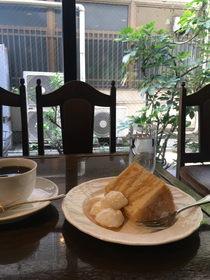 パン用の小麦粉を買いに行くため、お散歩。🚶🏻‍♀️
デパートは閉まっていましたが、私が行く店は開いていました😃
天気が良くて気持ちよかったな〜。
散歩は良いですね。
そして、カフェ探しをして、路地裏にあった自家焙煎の喫茶店へ。
メープルのシフォンケーキとブレンドコーヒー。
ブレンドはしっかり濃いめで美味しかったです、チーズケーキに合いそうだった❗️(チーズケーキと迷ったのですが)
機会があったらまた行ってみよう☺️☕️
I went out for a walk to buy some flour for bread.
Some shops were closed now, but the shop I wanted was open.
Today, it was a sunny day, and it was nice to go to walk.
Then I want to the cafe. They roast coffee in there.
I had a maple chiffon cake with coffee.
The blended coffee was delicious, with a strong bitter taste.
That would go well with cheesecake.