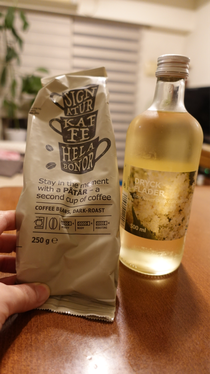 ちょっと欲しいものがあって、IKEAにあるかなぁ?と思い、今月できたばかりの新宿のIKEAに行ってみた。
都心型の店舗は少しずつ増えていますね。
家具などは 置いていなくて、基本雑貨中心、輸入雑貨屋さんな感じですね!
目当てのものは残念ながら売っていませんでしたが、せっかくなのでコーヒーとエルダーフラワーシロップを購入しました。
シロップはマスカットのような感じの爽やかな味だそう、これから暑くなってきたら炭酸で割って飲んだら美味しそうだな。☺️
コーヒーも250gで599円なのでお安めですね!
お味はいかに?
I went to IKEA in Shinjuku which had just opened  because I had some stuff that I want to.
There is not much furniture there, it looks like a general store!
Unfortunately, they didn't sell what I was looking for, but since I was there, I bought coffee beans and elderflower syrup.
The syrup is said to have a refreshing taste like muscat, it would be delicious to drink it with soda when it gets hotter. ☺️
The coffee beans i bought is low-priced, I got it for 599 yen/250g.
How is the taste?☕️