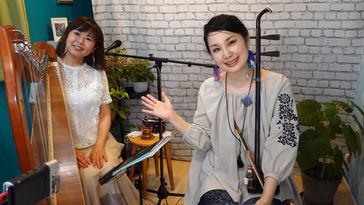 English below
カナエの部屋Vol14ご覧いただきました皆さまありがとうございました!
今回初めてアイリッシュハープの佐久間景子ちゃんがゲスト出演してくれました。
何気に二人で演奏するのは初めて!
アイリッシュの曲やスコティッシュ、オリジナル曲などなど・・・デュオでの演奏は5曲だったのであっという間だったな〜!
景子ちゃんのオリジナル曲「うみのこえ」の最初のメロディーは作った当初、私の二胡の音色が思い浮かんでいたとのことで、それを聴いて嬉しかったです!実際に二胡でも演奏できてよかったです。
千と千尋の神隠しから「いつも何度でも」も演奏しましたが、元々もハープで演奏されている曲なのでやっぱりとてもあいますね!
Oceanはレコーディング以来の演奏でしたが、生で一緒に奏でられたのは本当に嬉しかったです。😊
カメラも4台、家にある全カメラを駆使してセッティング頑張りました(笑)自動切替のセッティングも適当にしたのだけれど、ちょうどソロの時にそこが映ったりする瞬間があって、自分でナイス!と思いながら弾いていました😂
やっぱり人と演奏するのは楽しいなと❤️
景子ちゃん、ありがとうございました!
次回は7/4(日)15:00〜です。
Thank you for watching Youtube live today!
This is the first time that my friend Keiko Sakuma, Irish Harpist was came there.
We first met was 6 years ago when we had played in the group of new age music, but this was the first time we play alone together.
We performed some Irish, Scottish, original tunes.
Those hours seemed to fly by!
Keiko told me that the first melody of her original song  "Ocean's voice" had the sound of my erhu in mind when she wrote it, and I was happy to hear that! I'm glad I could actually play it on my erhu.
And we also played the song "Always with me" from the GHIBLI animation of Spirited Away, it was really perfect for harp as you can see from the fact that the original is also played on the harp.
Ocean hadn't played since the recording, so 
I'm so glad we were able to play together live again.
Today, I used all four cameras I have.
I set the auto-switching at randomly this time, even though it was running automatically, there were times when the performer appeared at just the right moment, and I thought, "Best timing.
I was reminded of how fun it is to play with others. ❤️
Thank you, Keiko!