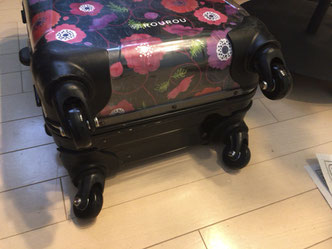 キャリーケースのタイヤを交換してみました。
いつも重いものばかり入れていてタイヤがすり減ってしまい、バランスが崩れて動きがだいぶ悪くなってしまったのですが、
本体は綺麗だし気に入っているので、タイヤだけ交換する事に
業者さんに頼むと高いので、ネットで調べた自分でやるやり方でトライ!
100均で買った金切りノコギリだったので切るのにかなり苦労しましたが…
それ以外、付け替えはとても簡単でした😄
今度からは付け替えも簡単になるので、まだまだ活躍してもらえそうです。
I repaired the tires on my suitcase by myself.
I'm always carrying heavy things, and the tires are worn out, so I'm not moving very well.
It was very difficult to cut the clasp with a cheap saw, but other than that, it was very easy.😄
It worked so well!