本日はカナエの部屋第16回目でした。
初出演で初共演の桐岡麻季さん(作編曲家・画家)をゲストに迎えての二人配信でした。
麻季さんの曲から、フクロウが招く夜、ユファラ(未来こーひー)まほらま(TVアニメ超訳百人一首 うた恋い。キャラクターソング)の3曲を歌わせていただきました。
麻季さんにコーラスをしていただき、オリジナルとはまた違ったアレンジになりましたが良い雰囲気でお届けすることができたかなと思います!
未来こーひーのアルバムの中での麻季さんの歌声めちゃ可愛いので是非iTunesで聴いてくださいね〜!
そのほか私のオリジナルのDearや優しさの種など色々演奏でご一緒いただきました。
上からのカメラで麻季さんの手元を撮ろうと狙っていたのですが、最初の曲を始めたらカメラの位置がずれて全然違うところを映していて、笑いそうになりました
ピアノだけでなく、鍵盤ハーモニカやパーカッションなど色々持ってきてくださって演奏してくださいました〜
楽しかった!
そして後ろに飾っている絵は彼女が描いたもので私が一番好きな絵!贅沢にも原画を持ってきてくださり、飾らせていただきました。
絵のお話も聞くことができて楽しかったです。
麻季さん、ご視聴いただきました皆さま有り難うございました。
まだご覧になっていない方はアーカイブでもみられますので、よろしければ是非。
麻季さんのホームページ
http://maki-kirioka.com/artwork.html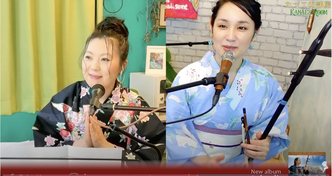 I had a live stream show with Maki Kirioka who is composer and Painter today.
It was the first time we play together.
We sang three songs from Maki's collection, "Fukurou ga maneku yoru / The Night Owl Invites," "Yufala (From her project Mirai coffee) Mahorama" (TV anime "Hyakunin Isshu Uta Koii character song).
I sung them with Maki's chorus, the arrangement was different from the original, but I think I was able to bring a good mood to the song!
And, she also performed my original songs "Dear" and "Seeds of Kindness" and so on with me.
I was planning to use the camera from the top to take a shot of Maki's hand, but when she started the first song, the camera was misplaced and showed a completely different part of her hand, which almost made me laugh.
Not only did she play the piano, but she also came with a keyboard harmonica, percussion, and more...
It was fun!
And the picture in the back is one of her paintings that I love the most! She even lavishly brought the original painting for us to display.
It was fun to listen to her talk about the painting.
Thank you very much, Maki-san and everyone who watched.
If you haven't seen it yet, you can watch it in the archives, if you like.