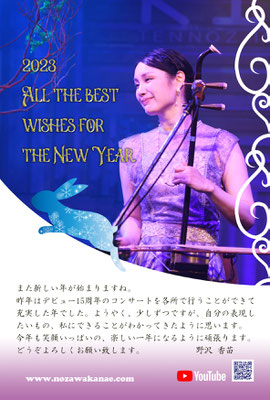 2023年も、皆様にとって良い年になりますように。
私はというと、マイペースではありますが、これからも二胡・歌をたくさんパフォーマンスできたらなと思っております。
ご縁と機会に恵まれる年になるように、精進したいと思います。
本年もよろしくお願いします!
I wish you all a happy new year in 2023.
As for me, I hope to continue performing erhu and singing a lot in the future, although at my own pace.
I would like to keep working hard so that this year will be a year blessed with good relationships and chances.
All the best for this new year!